Since sand dunes are an essential part of the Emirati landscape, the pavilion is built to represent the UAE culture. It looks much like the massive sand dunes found in the desert. The reflective golden steel panels on top of the structure are the central attraction of this building. When considering the design of the pavilion the architects have taken into consideration the ever changing weather conditions in UAE. The form of the building is meant to deflect and provide shelter from the rough winds in the area. Also the curves in the dune structures are meant to protect people from sandy winds.
Abu Dhabi is recognized as a centre for high art and the UAE pavilion is where most of it takes place. The pavilion can hold several international events as there are galleries, exhibition rooms and state of the art performance spaces. It is recognized as an events venue and exhibition centre which has attracted world renowned artists and performers. One of the major events that are held at the pavilion is the Abu Dhabi Art and Contemporary Art Fair. The fair includes design studio and art workshops, talks, interviews and book launches. A selection of leading art galleries from across the world are display during the fair and art connoisseurs, famous contemporary artists and emerging artists patronize the pavilion. Visitors to Abu Dhabi interested in purchasing art should make a trip to the UAE pavilion as this would be the best place to strike a deal.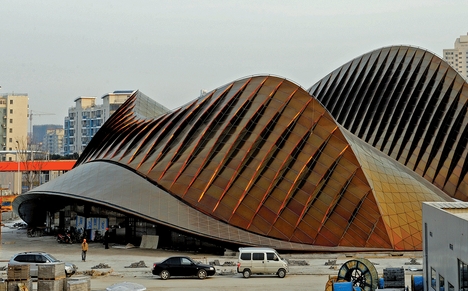 For art lovers who want to see something innovative or abstract, the pavilion provides ample entertainment. You can speak with artists who visit the place, listen to some of them being interviewed and even attend the talks and discussions where you can interact with these featured artists. If you are interested in art and want to make a trip to Abu Dhabi, take a look at the different types of Abu Dhabi hotels that are scattered across the city. Try Qasr Al Sarab Desert Resort by Anantara, one of the finest luxury hotels Abu Dhabi, which is close to the pavilion and will certainly pamper you during your stay in the country.
Umanga Kahandawaarachchi is a passionate travel writer who writes under the pen name, Maggie Tulliver. Her field of writing covers a wide array of content and articles related to travel and hospitality industry.